Iron Removal Plants Manufacturer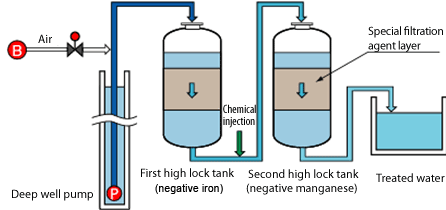 Many water have exceed contain of iron which may be harmful to domestic and industrial application. Presence of iron in the water will change the colour & taste of water. Iron exists in the following forms Insoluble iron, soluble iron, Organic iron and Combination of all. Using Manganese dioxide and other supporting media iron remove from water. Manganese dioxide work as strong oxidize agent.
Our simple but well engineered dual media filter acclaims stringent design, High performance, less pressure drop across the bed, longevity, optimum utilization of surface area ensure us to gain more and more client's satisfaction.
Material of construction MS/FRP/MSRL/SS
Designed as per ASME or IS
Available in Vertical & Horizontal
Improve taste of water
High removal of color & odor
High removal chlorine of the water
Well designed collection system
Well designed distribution system
High end water quality
Pretreatment in Ion Exchange process
Feed of R.O. Plant
Water treatment plant